Welcome to the CigarKings Shop
Are you looking for a fine cigar, a gift or merch? Then you are exactly right here!
96 Punkte! COY 23
Exklusiver Genuss für echte Connaisseure: Color of the Year 2023. Die COY 23 Belicoso Connecticut Limited Edition im Tubos - eine wahre Rarität mit nur 24.000 handgefertigten Zigarren. Tauche ein in den CigarKings Online Shop und erlebe den fein abgestimmten Geschmack dieser einzigartigen Kreation, die mit 96 Punkten prämiert wurde. Qualität, die begeistert.
COY 23 Belicoso Connecticut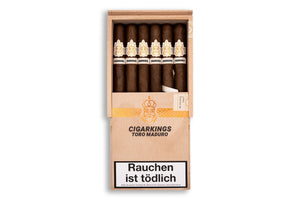 CigarKings GmbH
Toro Maduro
Sale price Price €120,00 Regular price Unit price / per
Tax included.
Shipping
calculated at checkout.
Cigars for every taste
Finest tobacco from Nicaragua combined with the finest wrappers from Ecuador. This is what makes the unique taste of CigarKings.

Totalmente a mano, entubado.
The perfect gift!
Our CigarKings cigar sampler. Contains four different cigars with two different wrappers. The sampler does not need to be stored in the humidor which is perfect as a gift for Christmas under the tree. We wish you much enjoyment!
PETIT ROBUSTO SUN GROWN
The cigar for beginners!
Our Coronita FT Sun Grown is the perfect cigar for beginners and occasional connoisseurs. Through your small but very accessible format you bring the full room note of a "big" cigar. On the head of the cigar we have put a so-called FlagTail. This means that you can simply turn off and there is no need for a special cigar cutter.
Coronita FT starting at 5,90 €
CigarKings Qualität
All CigarKings cigars are rolled in the traditional, Entubado style, which means that the filler is rolled entirely by hand and closed with a triple cap. This enhances the smoking experience and allows for more smoke channels. Our Totalmente a mano cigar enhances the flavor with every puff.
CigarKings Cigars
Robusto Maduro
The Robusto is a beloved, classic format in the CigarKings style. The Robusto Sun Grown combines elegance with flavor and builds on the Corona, with similar characteristics from the series, albeit in a more classic shape with a thicker ring gauge for a more intense flavor, taking the CigarKings experience to a whole new level. Being a classic vitola, it also brings a bit more sweetness with a smoke time of about an hour.
Robusto Maduro
Entubado Style
The oldest, most labor-intensive but best method for 'bundling' cigars is the "Entubar" method. This rolling process involves up to eight separate channels of filler tobacco, each forming a separate smoking channel. These smoke channels are firmly rolled into the tobacco roll, the binder and the wrapper. The creation of these smoke channels allows the cigar rollers to wrap the wrappers tighter around the filler, which would not be possible with the "Standard Book Filler Method". The "Entubar" method produces an incredibly compact and slow burning cigar that optimally develops all the aromas of the cigar blend.
Only a handful of top manufacturers use this style.
Test the taste of the CigarKings with our samplers. 4 sizes 2 different wrappers
Blend
Filler: Nicaragua Viso / Seco
Binder: 2 x Selected CigarKings®
Wrapper: Ecuador Sun Grown / Maduro
CigarKings Cigars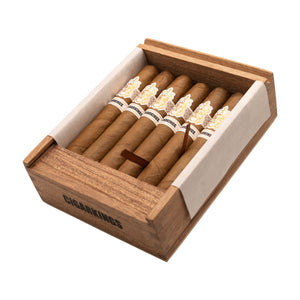 CigarKings GmbH
Robusto Sun Grown
Sale price Price €110,40 Regular price Unit price / per
Tax included.
Shipping
calculated at checkout.
YOUTH PROTECTION
For us it is a matter of course that we sell our products, as required by law, exclusively to adults over 18 years of age. This is also checked by us.